In this month's gallery post we are featuring a charming English home with an italian interior. The owner of this home went through multiple revisions with her architect to create the perfect home. This is our first home we are featuring from the hillcrest neighborhood.
What is an English Style Home?
This English Style is the true evolution of the Tudor home. Tudor homes were first designed in England and eventually evolved into multiple different styles around europe. This home has many similar characteristics to the French Tudor home in our gallery. From the steep gabled roof to the exposed natural looking materials used.
Steep Gabled Roof
The Tudor homes use gable roofs as the focal point of the home. They are typical accentuated further by covering one or more of the gables in a contrasting material.
The English evolution to this home adds a sloping gable that often goes right over the front door. This is unique to English style homes
Arches on Tudor Homes
Arches on Tudor homes were very popular. There is even an arch that is specifically named the Tudor arch. It featured rounded corners that came to a point on the top, they were similar to Gothic style but were designed to be wider than they were tall. The arches were seen in many areas of the homes and often, most notably, around the front door.
In the English style arches of many different types are used to add flair and appeal.
Unique Slate Shingles
Tudor homes often had slate roofs. Slate is very malleable but also overy durable to the elements. The slate could be split into durable sheets that would stand up to almost anything. The slate also could vary in color which gave a very natural and interesting look to these homes. This style continues in English homes around the world.
Italian Interior Design
When we think of Italian interior design we think of beauty and style and this home is full of it.
Rich, Cozy, Warm
Italian design is fich, cozy, and warm. The design can often feature strong centerpieces that help to anchor the entire room. This can be done with architecture or furniture.
Neutral Colors Accented by Bold Toned Furniture
Continuing with the centerpiece theme, Italian design often features bold accent colors surrounded by a common neutral color in the home. These colors are usually warm and inviting.
Old with New Finishes
The italian style has evolved over the years to now feature many older pieces with a new spin. Modern furniture with a classic touch is all too common in these homes.
Iconic Italian Lighting
The ornate light fixtures are a staple of these homes. Often floral with metal leaves and a dark patina, these fixtures give an aged feel to a new home and look great in so many newer homes looking for a touch of classic.
Mixing of Many Styles
Unfortunately we did not have a chance to shoot this one after the furnishings were added, however, this home is stunning nonetheless. The owner mixed the English/Tudor exterior with the classic Italian interior creating a personalized and custom home like no other.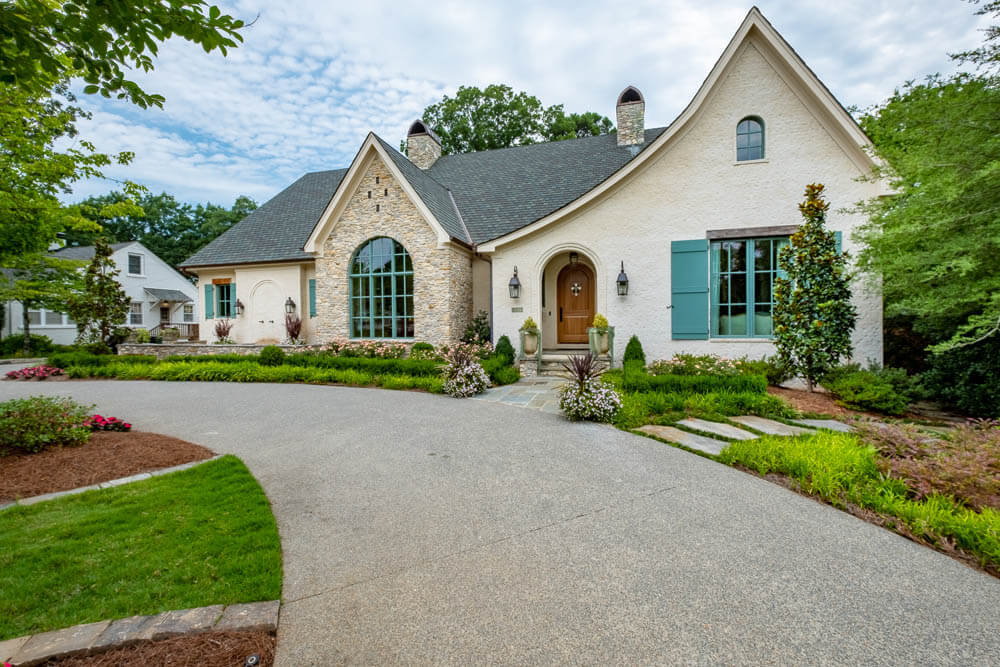 On the exterior you see the natural stone material mixed with a painted brick similar in texture to stucco.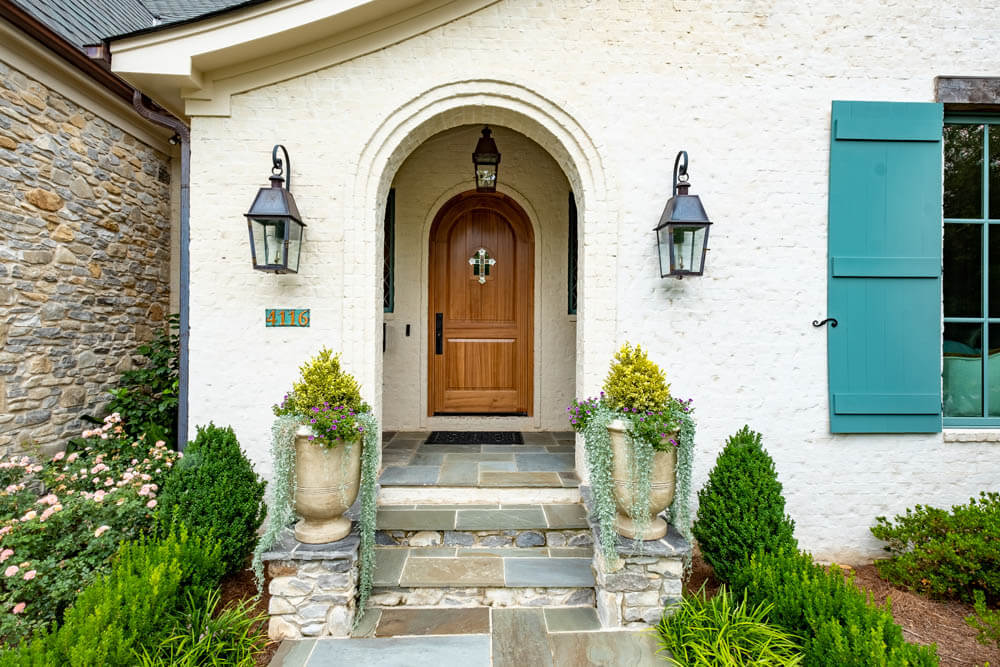 The arches in this home are not specifically Tudor arches, but they are indicative of the tudor style of home that featured arches over doors and windows. The exterior also features a popular bluish-green accent color on the exterior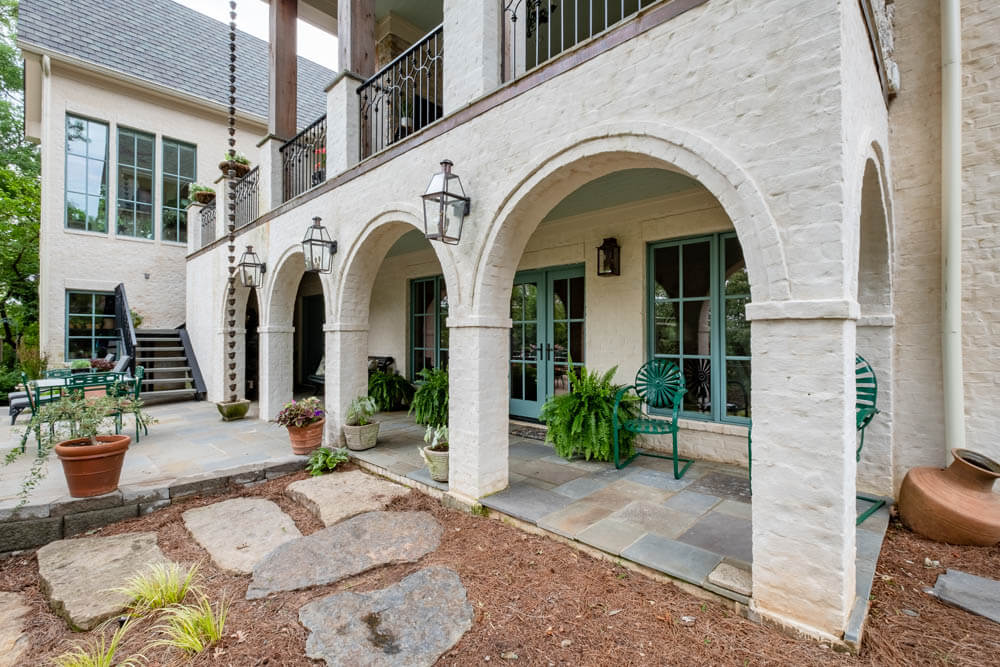 As you move around the back of the home it becomes distinctly more italian. Taking on a villa-esque feel to it.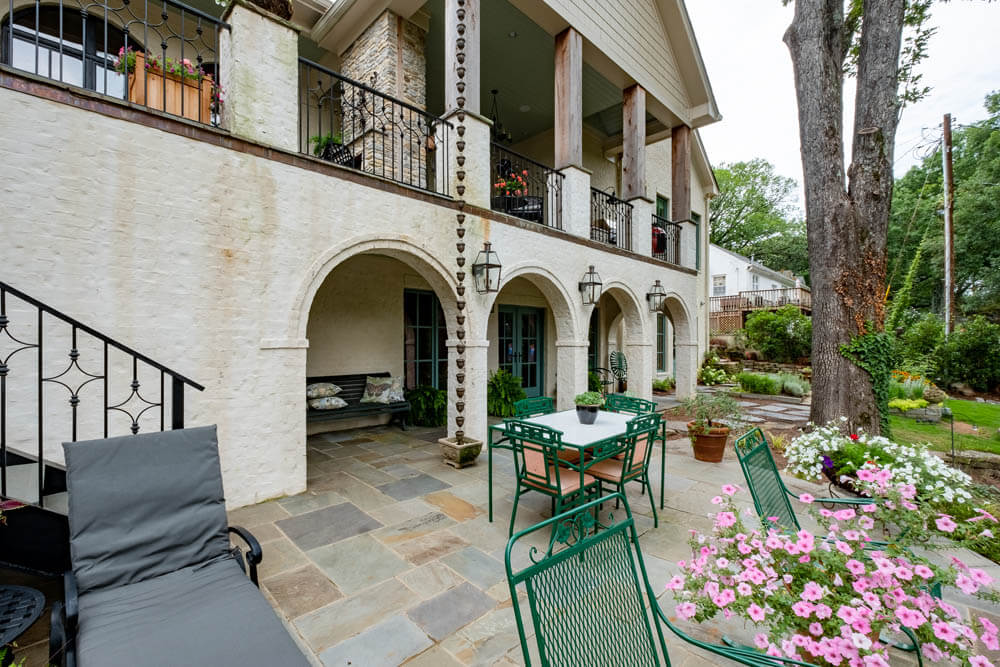 There is a beautiful garden in the backyard that is great for summer and winter nights by the chimenea.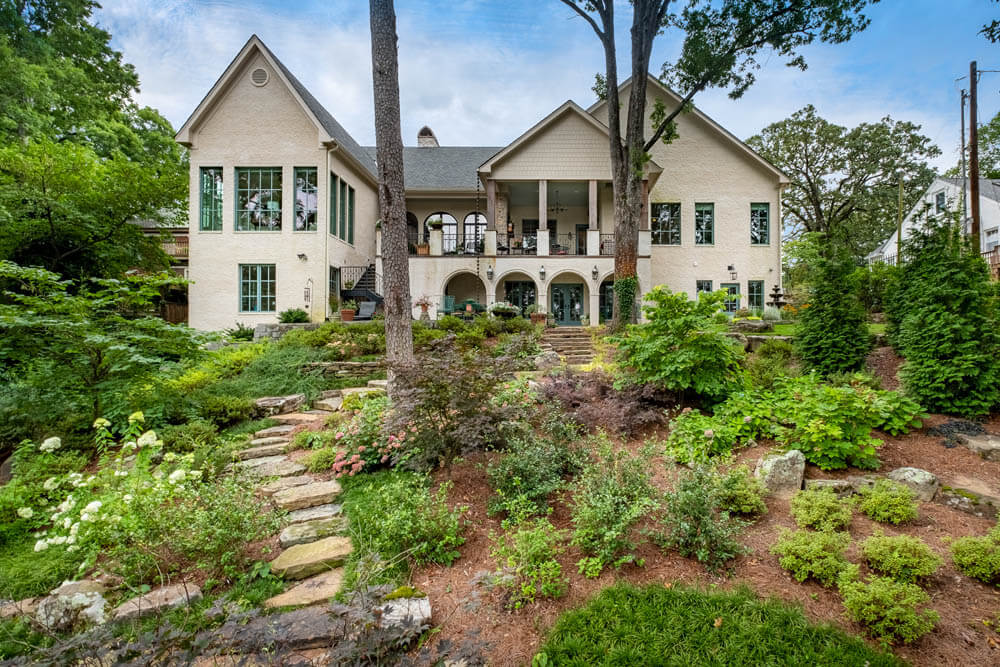 Inside you will immediately notice the soft warm color scheme throughout most of the home.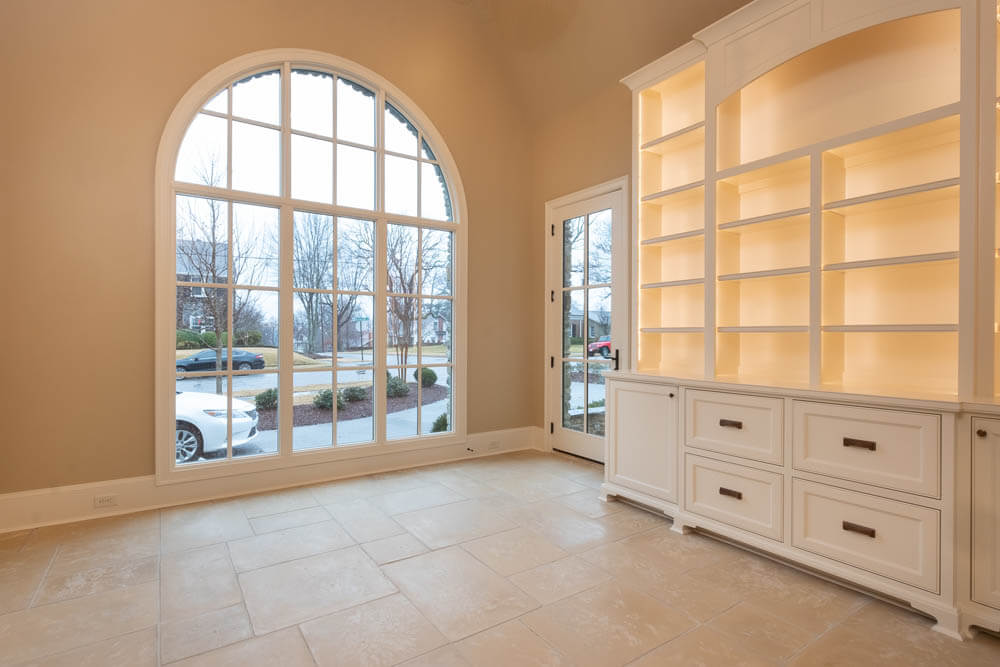 The exposed beams and natural brick help to lead your eyes to the fireplace centerpiece. The floor has an almost patio-like feel that feels like a home in the countryside of Italy.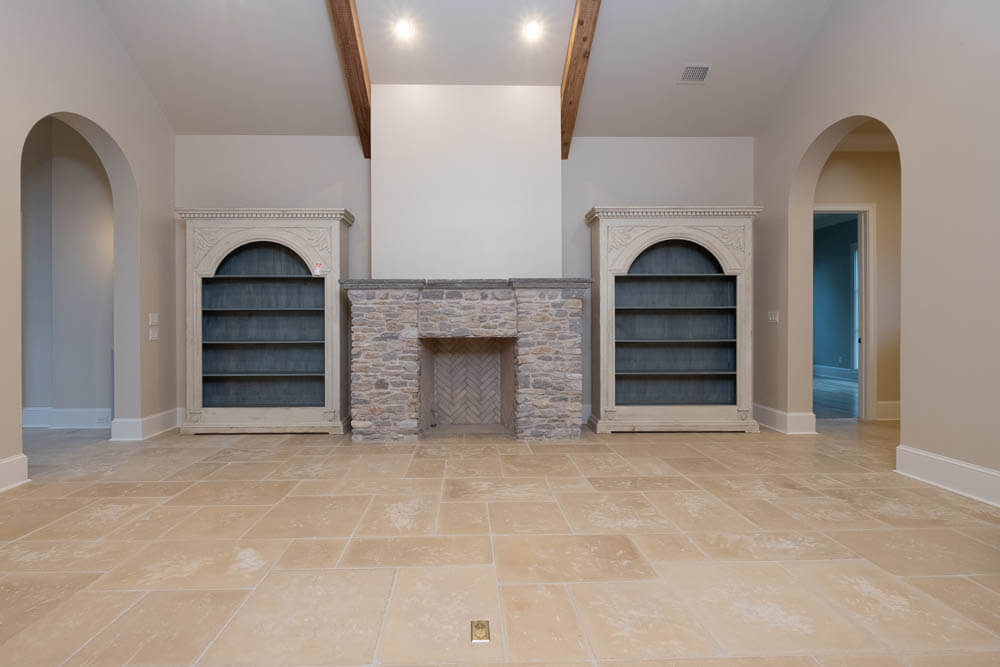 Many of the hanging light fixtures in the home have the classic ornate italian look and some have a more modern approach to those same fixtures.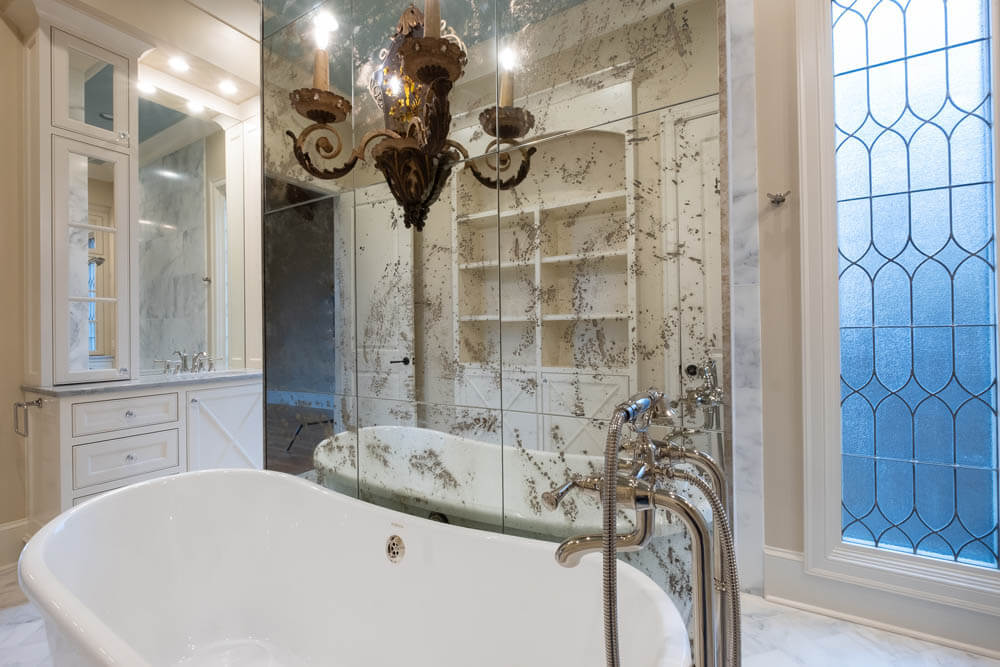 The kitchen has two large islands, exposed beams, and high ceilings for that homey feel that everyone needs to come home and relax in.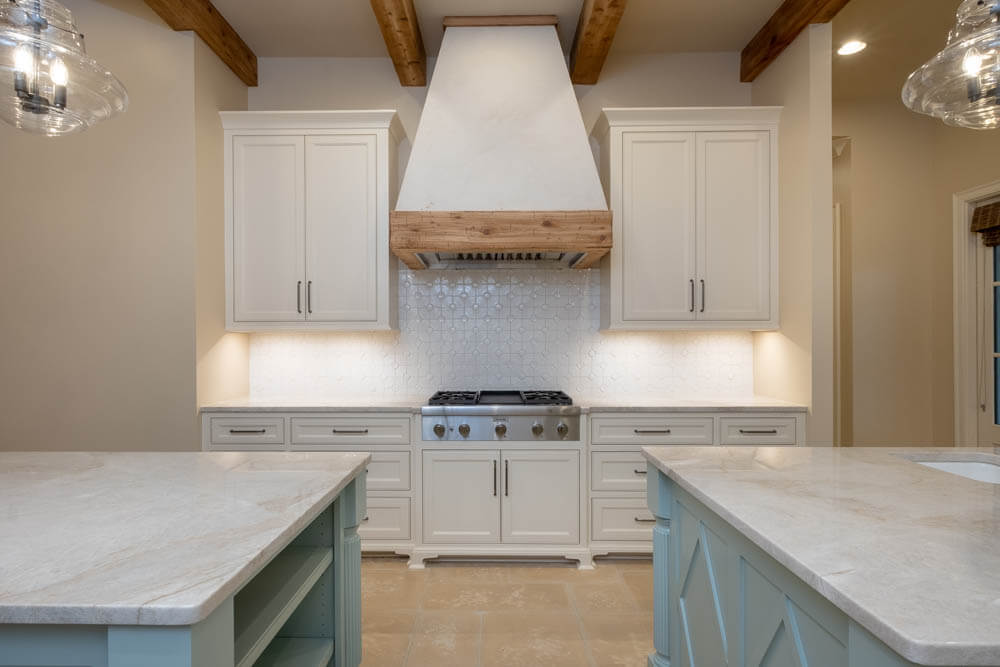 As always, we want to thank our customers for letting us feature their home in our gallery. Parkinson Building Group exists because of our incredible customers! If you have any interest in building a home like this, shoot us a message or give us a call today and we will be in touch.