This new addition to our gallery is one out of our archive. It was built a few years back and is a very traditional French Country home with beautiful finishes. This home was built in West Little Rock and is a great addition to the neighborhood it was built in. The kitchen in this home was featured as the main image on our site and we still think it is one of the most stunning we have built!
To learn about the different characteristics of a French Country Home, Check out our other gallery post about them!
Rustic and Ornate
This home is the perfect example of the rustic and ornate features of a French Country home. Upon immediate entry into the home there is a beautiful chandelier with detailed metal work covered in a warm patina. This is continued in every room throughout the rest of the home with weathered glass, metal, and stonework.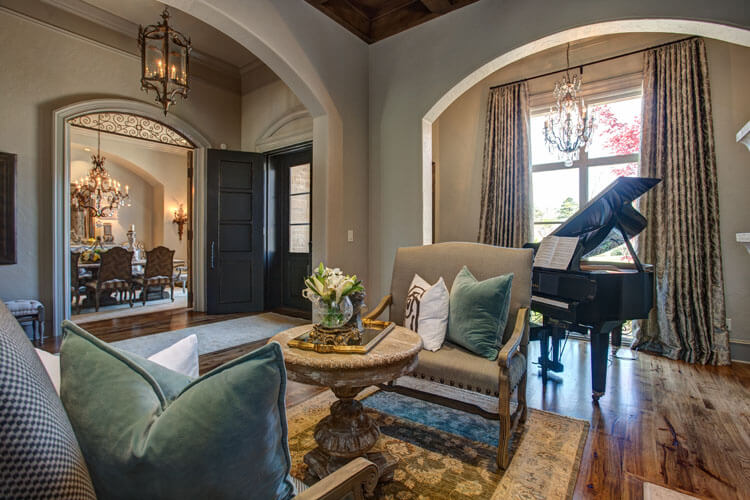 In the bathroom below there is an elaborate vanity with the same curled metal work as above. This metal work is reminiscent of a French fleur de lis. Additionally, there is a "Putto" sculpture on the wall. This sculpture often depicting a small, male child with wings was very characteristic of the Renaissance period and became prominent in French art in the 1900s.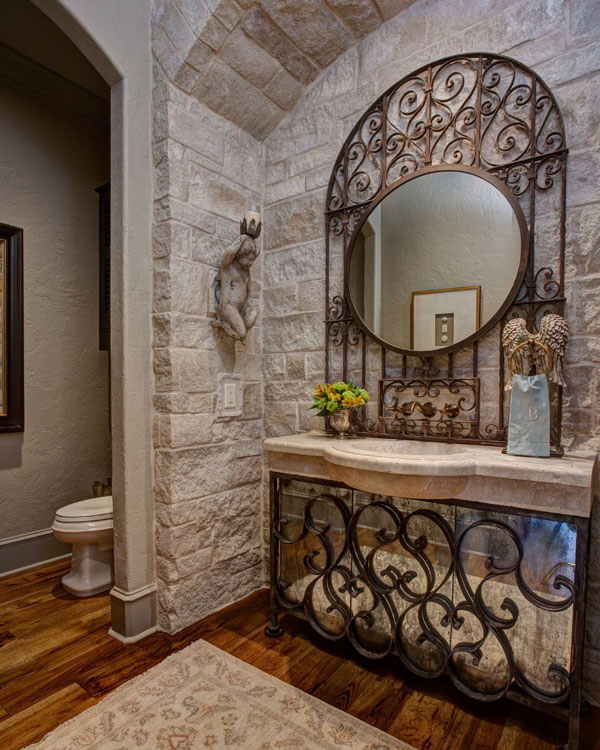 Natural Finishes
One thing we love about these homes is bringing the outdoor finishes inside. All over this home there are stone, wood, and marble decorations and walls. In the bathroom above the stone alcove around the vanity is a perfect example of this stone finish.
In the front room there is a wood in the ceiling that accents the rest of the room very well. There is also a large stone fireplace with unique, rustic wooden candle holders. Many of the decorations in this home mirror the materials that are used in around the rooms.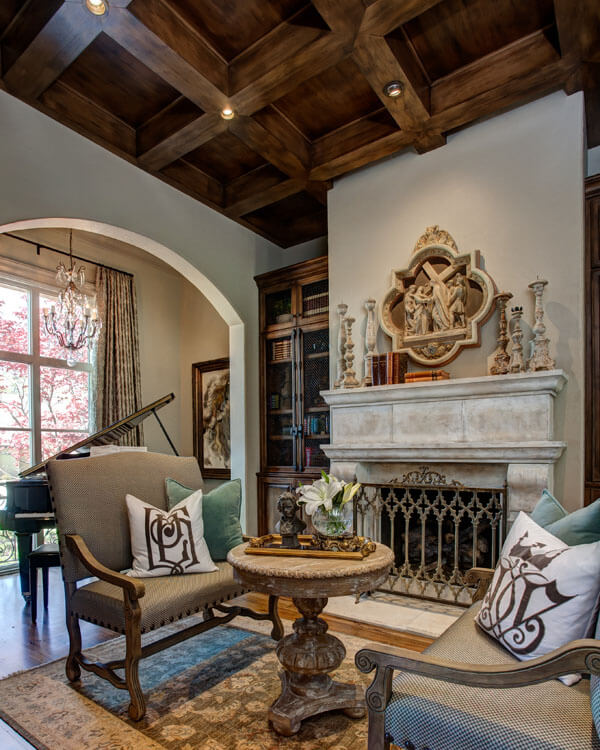 Another place there is heavy use of natural materials is on the drives and patios. This home used stone pavers exclusively around their property. It is a completely unique look and feel and really made the home pop in the neighborhood.
The French Chateau Outdoor Inspiration
This homeowner wanted a fully French experience and the building team obliged! Though this is one of the more subtle uses of the French style, it is still apparent throughout the outdoor living space. This style is that of French Chateau gardens and their strong use of symmetry, coupled with curves at the corners. You may notice that there are very few simple right angle corners (check out the corners of the pool below). This gives it a sort of regal feel that you may see in the grounds of a castle garden.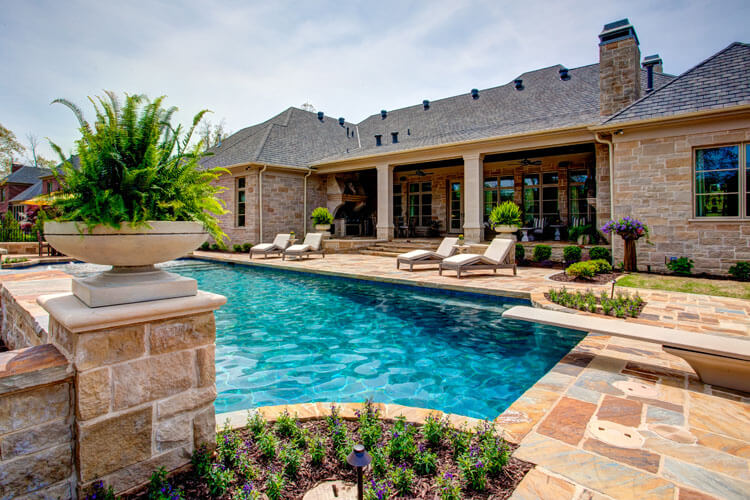 The French also liked more symmetry (similar to the rest of the home) and color in their gardens. Today, many gardens have a free flowing design with long curvy edges. In these French gardens, the lines are straight and strong. foliage matches on both sides of this home's front doors and draws your eyes to the, aptly named, French Doors.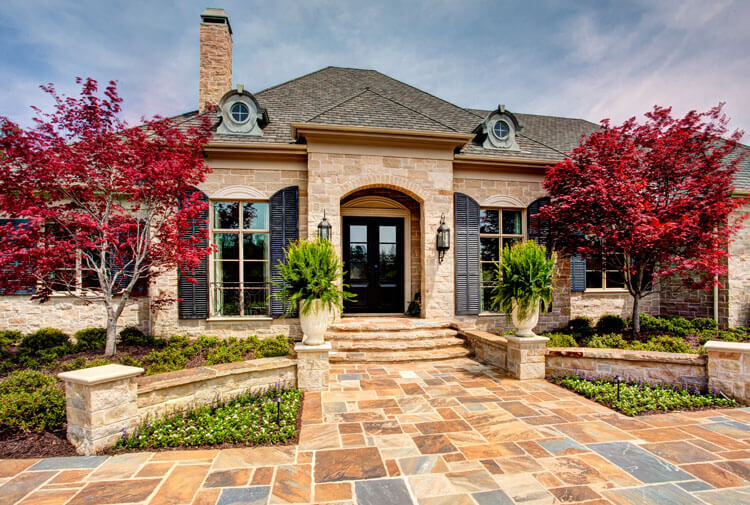 Oh... And the Kitchen
What do we even need to say about this kitchen? The French Country inspiration is very apparent in the pure functionality of the room, the abundant stone and metal work, the gentle arches used in numerous places, and the warm inviting colors. We won't say more, just take a look yourself....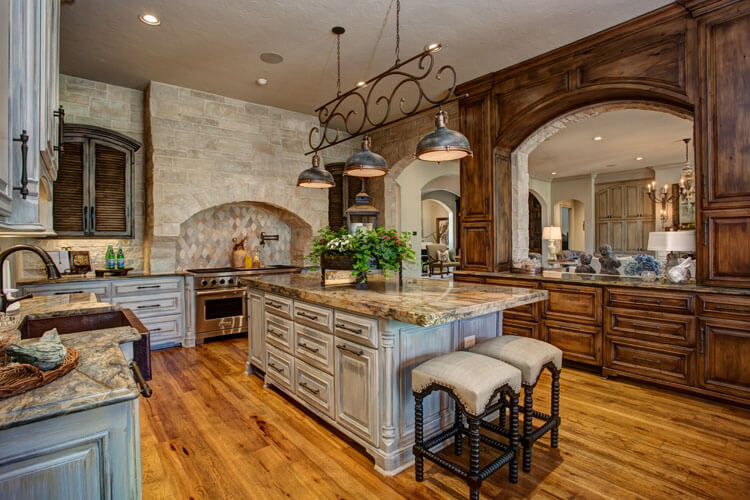 Some Other Things We Love
We always have those features in a home that we just love. In this one we have a few. The first is this convenient garage lift. How often do you get stuck having to drag that Christmas tree up the stairs? Not anymore! This lift makes it easy to bring seasonal items up and down without throwing out your back.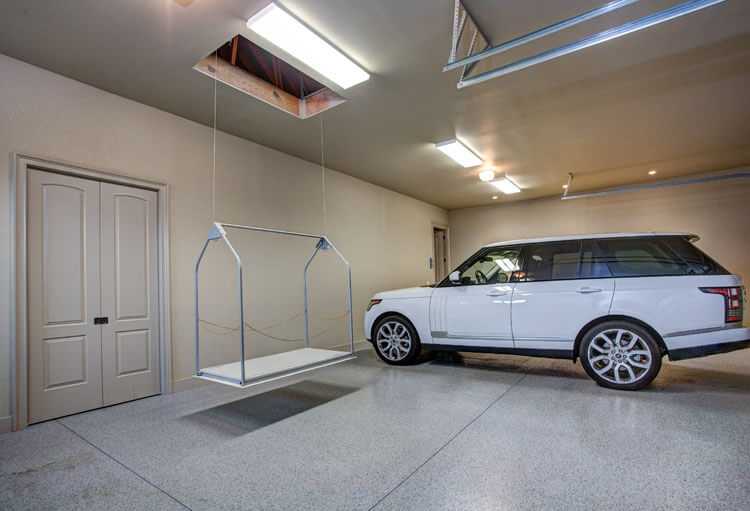 Another thing we have seen increasing in demand recently is laundry room islands. Laundry/mud rooms are becoming more and more functional. We have seen dog baths, mud stations, and the island is the perfect place for folding clothes and just having a place to spread out.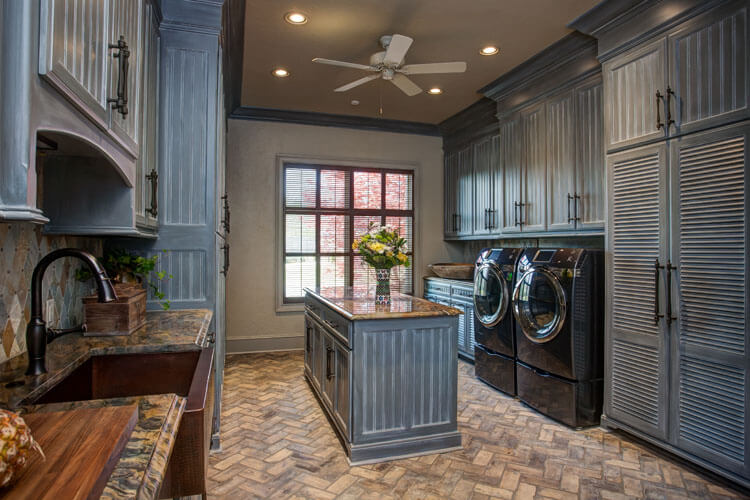 Finally, we always love a good pool and this one is no different. This pool is designed with kids in mind! The wading area is perfect for kids to play in or putting in a nice lounge chair to cool off while reading a book.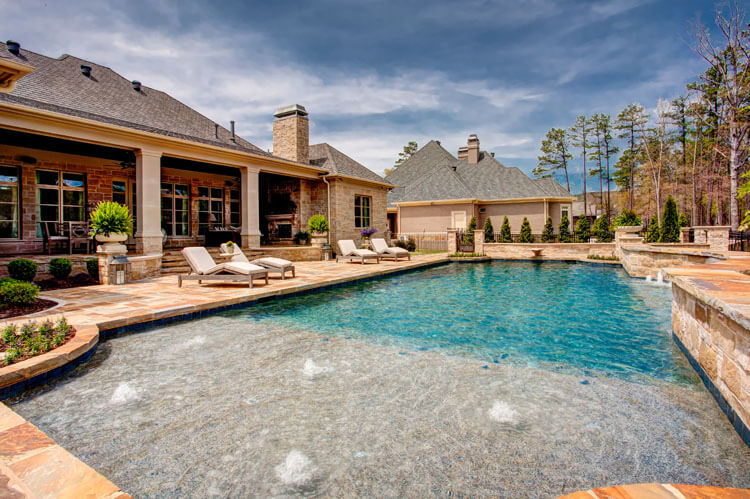 As always, we want to thank our clients for allowing us to be a part of building their custom home. This one had some great features and was fun to build. If you are ready to build your custom home, give us a call or email us and get started today.