If you want to create a French-style landscape but don't want to spend a lot of time maintaining it, consider having a French Country landscape garden. A French country landscape maintains the same design elements and order but feels more relaxed and natural.
A French country landscape is informal, with a blend of bolder colors and soft plantings. But the basic design principles of both traditional and country designs are the same. In a French country design, planting beds can be more loosely planted and less structured. The same gravel beds that look amazing in a formal space work just fine in a small home's entryway. Even in the most informal settings, there's always a great sense of order, rather than overwhelming plantings and color chaos.
Here are the basics that are used to create a French country landscape design. Read the article to grow one in your own front or backyard.
Controlled Abundance
First and foremost, your French country landscape design should be a blended one. Your beds may merge, and planting should not be in neat and organized in rows. Your growth should be reaching up walls, twisting around the property, and filling up all available space. A beautiful, simple mulch or gravel path adds an old-world charm. Of course, the overall design scheme will look raw, overgrown, and wild. Still, with the gardener's knowing hand, you can create corners and nooks, picturesque overhangs, and cozy recesses scented by fragranced flowers.
TIP: Use hand pruners to remove undesired growth on vines and shrubs. It will keep your design maintained without looking manicured. Removing old flowers from perennials, known as deadheading, will increase your plants blooming time. Train vines to grow up on arbors and trellises. And cut the wild shoots a couple of times a year to keep it controlled but not too formal.
Architectural Elements
Architectural elements add variety and a considerable charm to any landscape design. A pathway may reach to a yard pond with a rustic wooden or stone bridge, a spectacular gazebo may be fixed in a shady nook, or a cobblestone patio might extend from the backside of the house itself. Simple arches, trellises, arbors, and window boxes adorned with healthy plant growth are perfect symbols of the French country landscape design.
TIP: French country landscape provides ample spaces for young kids to play. Garden sheds and arbors can lead to hours of fun, imaginative games. Garden sheds can be a playhouse or a secret hideout; add a window in the shed, and it becomes a drive-through fast-food spot. Arbors can become a goal for a football game or a stage for a play. Grow some beautiful vines to hide these structures, and they will bring grandeur to your French country landscape design as well as an amusement for your kids.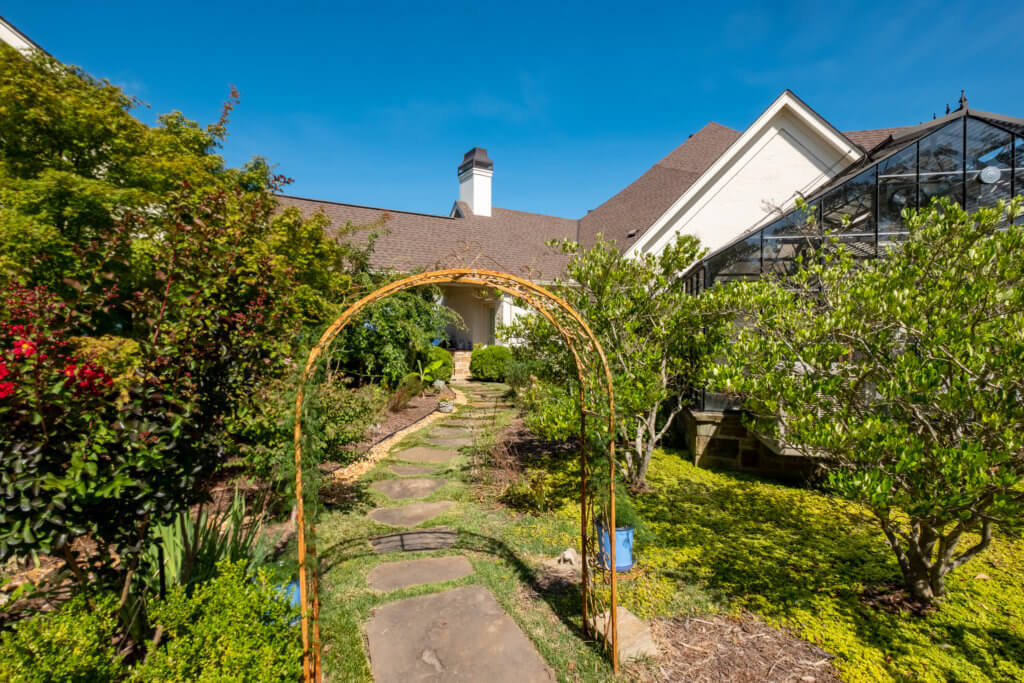 Garden Furniture
A French country landscape design is always incomplete without peaceful corners for people to enjoy the view. You can place a set of white wrought iron chairs with a matching table anywhere in the garden. Covered by trees and surrounded by turf, oriental poppies, and lavender. It creates a perfect setting where you can enjoy evening tea with your family. Avoid modern features and straight lines as much as possible because these are not evident in a French country landscape design.
TIP: When developing your French country landscape design remember to add some elements for the birds; a shallow fountain or a birdbath can attract many birds' attention.
Plant Selection
When selecting plants for your garden, consider a myriad of foliage plants in a variety of sizes and shapes. From tall broadleaf plants and low-growing groundcovers to tall hedges, small shrubs, and spreading trees, your French landscape design should be a green paradise adorned with splashes of color, both perennial and annual flowers. These foliage plants can be everywhere around your landscape but should be well-kept.
TIP: Two commonly planted vines you can use in your French country garden are Virginia Creeper and Boston Ivy. Both of these do a great job climbing over arbors or on the sides of buildings. Virginia Creeper and Boston Ivy attach themselves to climbing surfaces with the help of modified tendrils. These tendrils can cause real damage to the surfaces of buildings or arbors when they're pulled. The right way to remove some or the entire vine is by cutting the shoot and letting it die. This way, you can pull the vine with minimal damage. Even then, some tendrils can be left on the buildings' surface, so pick the placement of these vines wisely.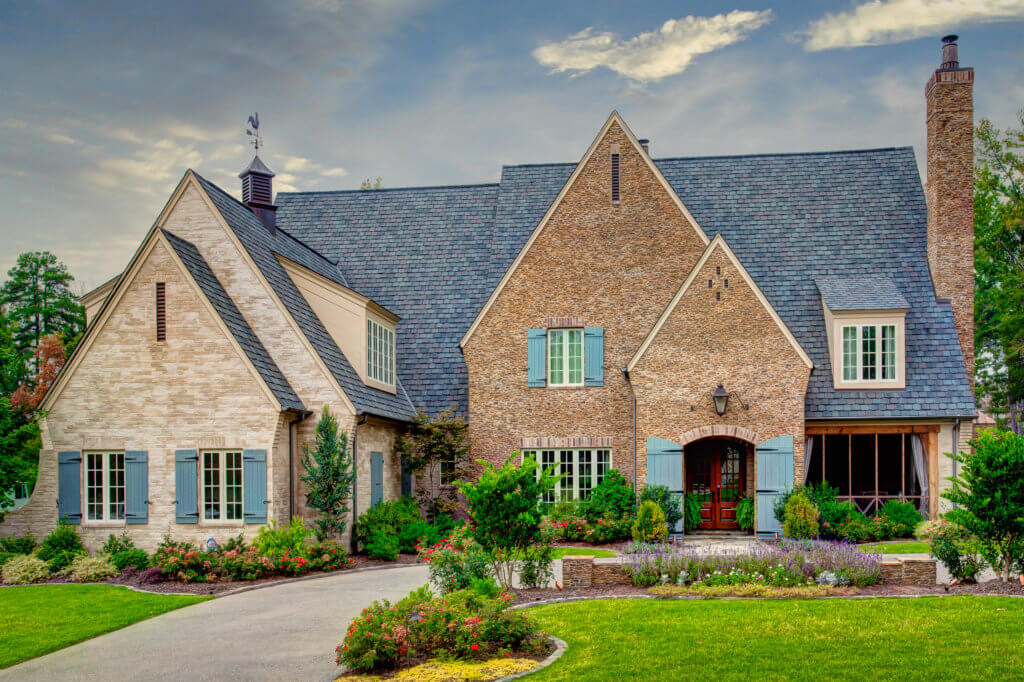 The Right Greenery
Classic Colors
A French country landscape design is known for its cool color palette, including greens, blues, purples, pinks, mauve, and whites. These landscape designs have neatly planted planters and garden beds and a field filled with lavenders.
For a more classic look, create borders with one type of plant only. Keep the flowering timeframe and care requirements in mind when selecting perennials and annuals to have year-round color!
Greens
To design small spaces like balconies or a backyard, use year-round green in your garden. It can be in climbers, vines, and some drought-resistant plants that can withstand hot summer days. For open spaces, use clipped shrubs and boxwood hedges.
Complementary Colors
For a smaller garden, let the color palette stay simple and use only one color to complement the greenery. To add some additional greens and colors, a French country landscape design can also include herbs and vegetables laid out in ornamental patterns.
Beautiful Views
You can use vines such as wisteria that twist around window and door frames for terraces and balconies. Create some support like metal pipes for climbers and vines to grow on. These metal pipe structures will prevent climbers and vines from damaging the façade of your home while supporting them as they get heavier.
Mix and Match Elements
Mix a variety of plants having different textures and colors in your design. To create a balcony garden, you can mix various plants in one pot, like herbs with ornamentals, allowing vines to spread out just enough to give the space a natural French country feel.
Things to Avoid While Creating a French Country Landscape Design
· Don't hide your herb or vegetable garden. You can lay out your herb garden in beautiful geometrical patterns edged with boxwood to create a landscape that is both beautiful and useful. In a French garden, the connection of humans with food is celebrated.
· Avoid using plastic edging. They can heave out of the ground during harsh winters and won't hold a leveled line. Instead, select brick, metal, or aluminum edging; these will keep your French country bed lines crisp and square.
· Don't go for the one-of-this, one-of-that aesthetic. The French country landscape design avoids irregular or overdone details. To achieve your design goal, use a limited plant palette; it will give you greater success.
· Don't feel that you have to strictly follow a specific theme to get a beautiful French country landscape design. If the mixing up feels right, then go ahead and do that. These personalized individual touches are what make a design enjoyable.
Final Words
French-country gardens blend the elements of formal design with informal, almost cottage-style planting beds. You have clipped hedges, and you also have more natural plantings that look a little wild. No matter what design style you choose, either a traditional French courtyard or an informal country landscape, make sure to make the design symmetrical and visually attractive from all angles. It should be equally appealing from the inside and outside. 
Parkinson Building Group has helped our clients create beautiful landscaping to fit their homes and lifestyles. This French Country style is perfect for the busy family that wants a little less maintenance without sacrificing on style. If you are looking for more information on building a new home, contact us today!