One of our favorite things about building a home for a new customer is seeing the customizations that they add that make their home truly unique. Oftentimes this is one of the best parts about our builds because we get to try new things and push the boundaries of what can be created in a home. With the recent outbreak of this global pandemic, our customers have created a perfect escape for themselves inside their own homes. Here are a few of our recent custom features that we love.
A Beautiful Garden and Greenhouse Escape
It seems in the last couple years there has been a revitalization of large home gardens. Parkinson Building Group has been a part of a few builds in the last year or two that have helped our customers build the perfect escape daily life and allowed them to connect with their inner gardener. For many, gardening is therapeutic and relaxing while also a great way to create fresh, organic food for your families.
Below are some images of what we have built in the last few years. The first features a greenhouse built into the side of a house in Chenal. A temperature controlled greenhouse is the perfect way to guarantee fresh produce and herbs all year long.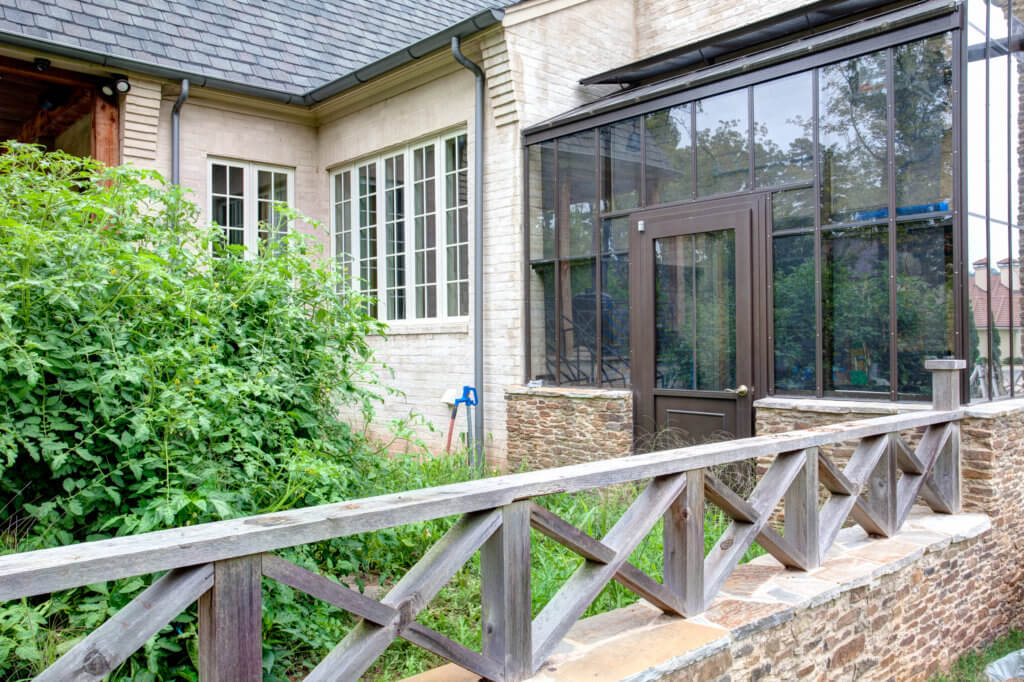 This second picture is a gated garden on 25 acres out in the country. The spacious garden is sure to allow for a wide variety of produce and larger yields.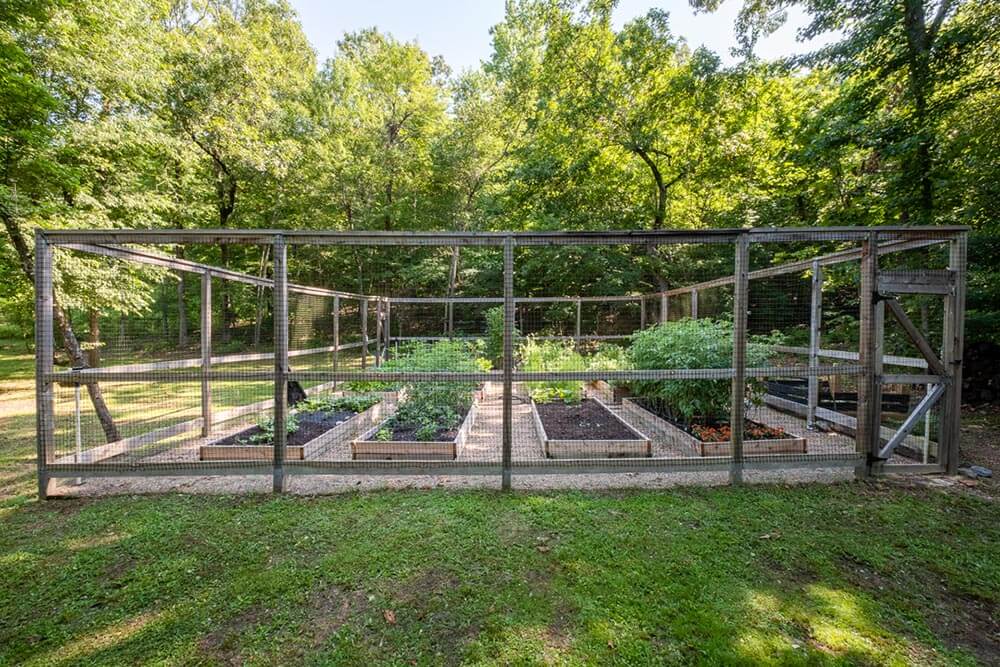 Finally, we reached out to one of our past customers who has created incredible garden at his home in Waterview. Dr. White partnered with Parkinson Building Group a few years ago to build his custom home on a lot perfectly picked to build a lush garden and greenhouse on. Here is what he has to say about it:
I have loved growing plants and gardening ever since I can remember. To see the miracle of life burst forth from a small seed and appreciate God's hand in providing abundant vegetables, fruit and flowers in a garden setting has been an on-going passion of mine, indeed a vital part of my life, ever since. Naturally, when the opportunity came along several years ago for my wife and me to design and build a home in a setting that would provide an ideal location for a large garden as well as an attached greenhouse I was thrilled.

The joy and happiness I have been able to experience over the past five years have only become greater during the recent period of "self quarantine" at home during the Covid-19 crisis. My own personal backyard sanctuary has not only kept me busy tending to my garden but also has given me hope that the bountiful harvest of tomatoes, peas, peppers, blueberries, apples, etc. will be forthcoming. Yet in a greater sense, the peace and serenity of this special place gives me reassurance that a greater power is at work in our lives and that in due course we all will experience a welcomed harvest of families reunited, employment resumed, churches, restaurants and sporting events reopened and back to some semblance of normal.

Until that day comes, you must excuse me, I have weeds to pull!

Allen White
A Place for Experimenting and Entertaining
The kitchen is the cornerstone of any home. It's the place where you can entertain friends, the gathering place for your family at the end of the day, and a place to create culinary masterpieces. Everyone enjoys good food and having your own laboratory, of sorts, to create unique dishes can be exciting. Since homes these days are often centered around the kitchen, it is always fun to see what our customers envision. Below are some of our favorites
Here is one built into a Greek Revival Farmhouse, it features LaCanche Appliances and a spacious island for preparing culinary masterpieces.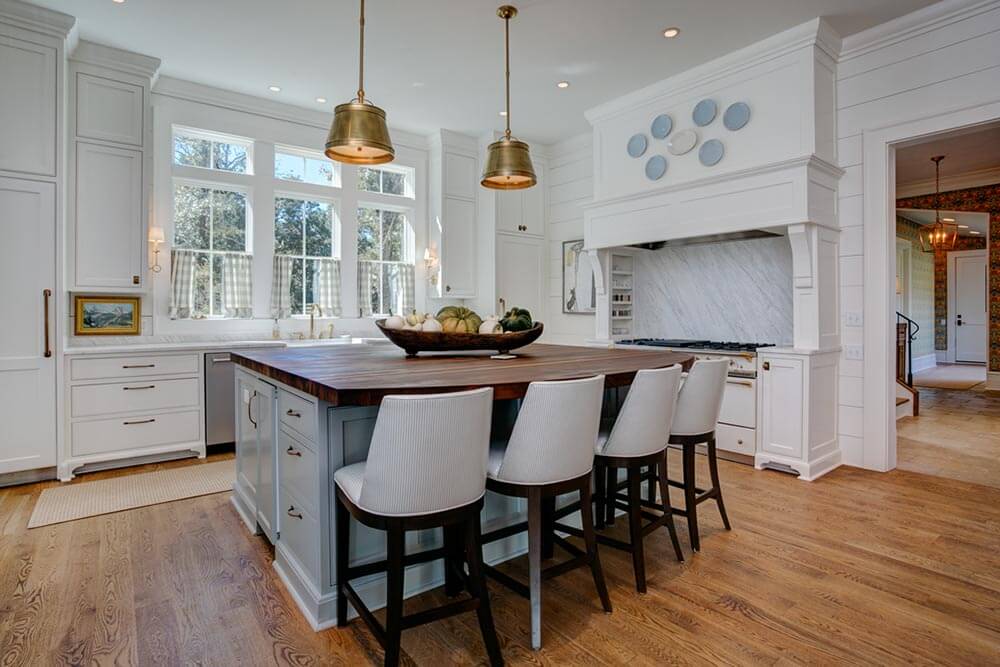 This open concept kitchen has bar seating for creating a hearty dinner while entertaining guests.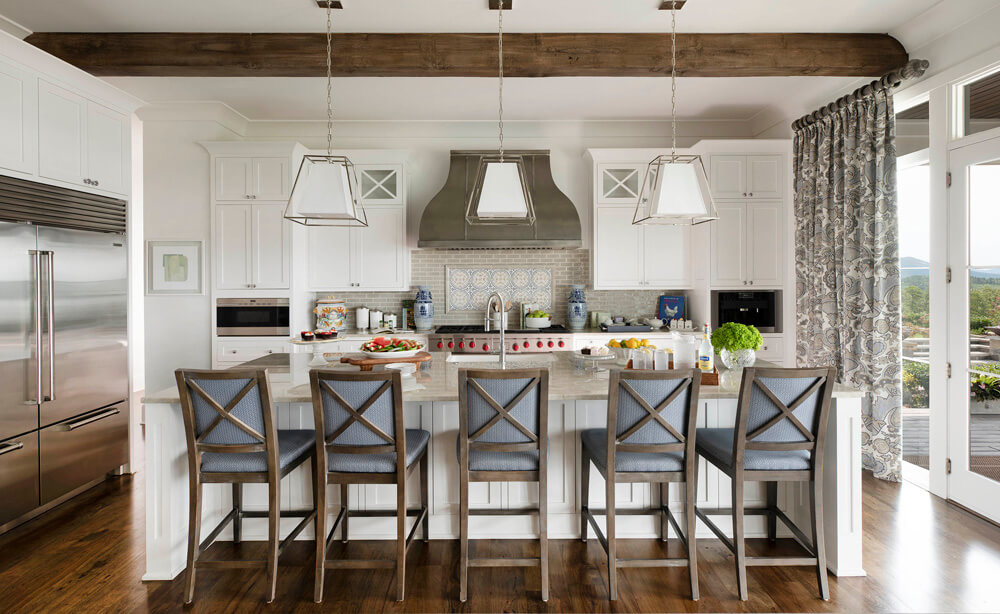 Not all kitchens have to be indoors! This outdoor kitchen features a pizza oven and grill and is seated next to one of the most beautiful views in Arkansas.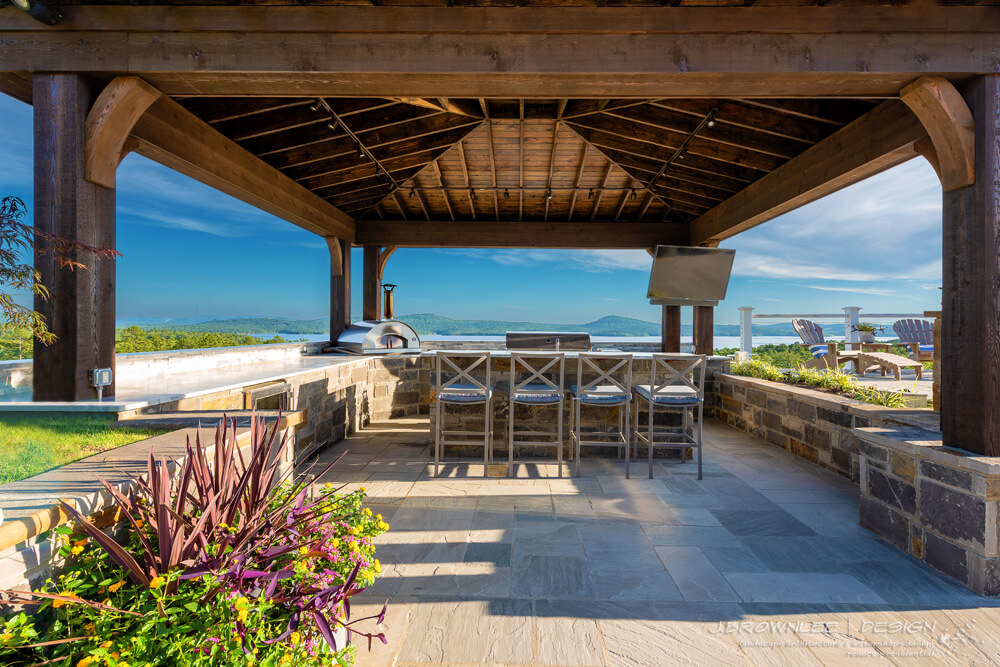 Inside our Transitional Modern European home the owners had a beautiful, custom wine cooler built in.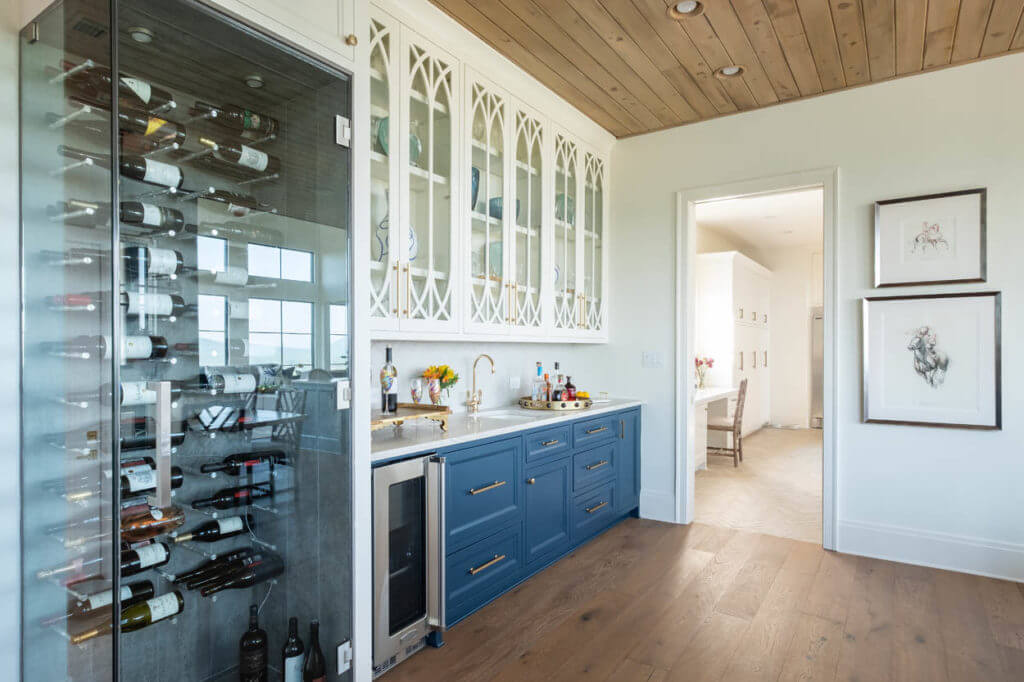 Is There Anything Better Than a Good Book?
Winding down with a good devotional or leaving reality with an action adventure novel has been a hobby for centuries. Creating the perfect place to do this inside your how only adds to the experience.
Your Best Friend Deserves His Special Place Too!
For many families, your furry friend is just as much a part of the family as any. Its important that they have their own special place in the home so they can catch some ZZZ's. We have had a great time helping to build out some unique things for dogs over the last few years.
In this home we built out a small room under the stairs for the family dog. It was a cozy place for him to sprawl out and relax after a fun day with the family.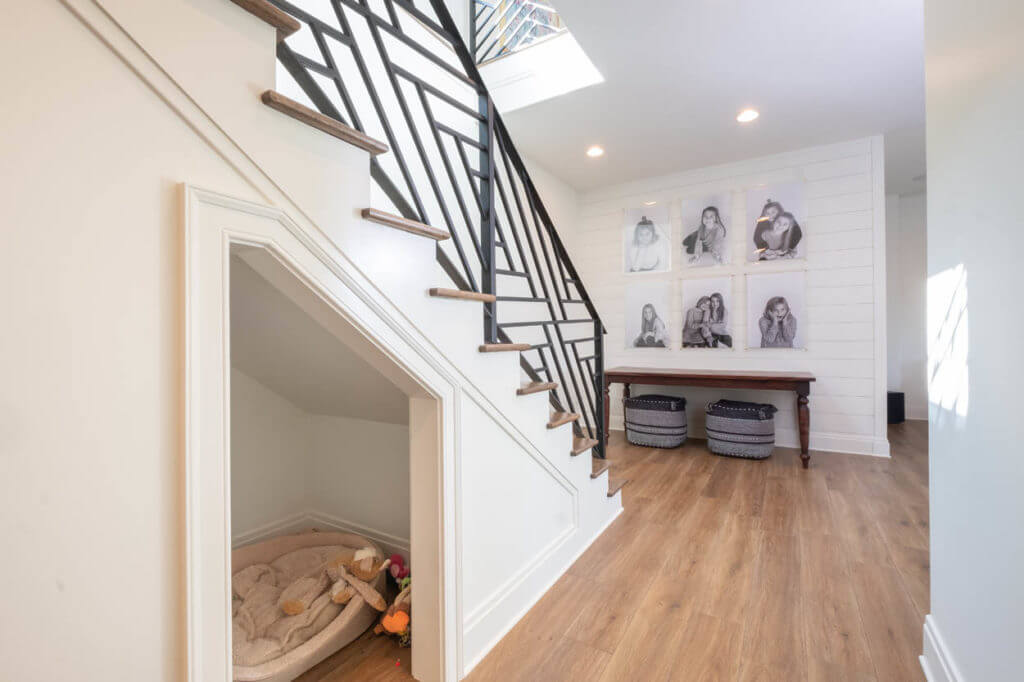 In our home out in the country we helped create a built in dog bath for after a hike through the woods.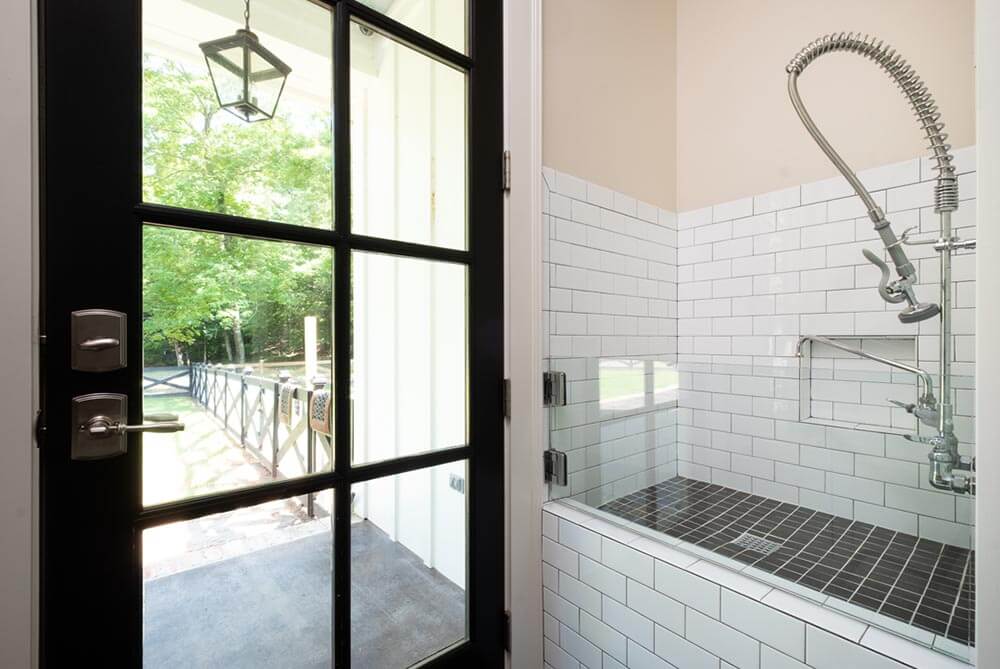 A Big Screen Experience at Home
Theater rooms are not new to custom homes, but they are always a great addition when a customer gets to create their own. Recreating the theater experience at home is such a fun way to entertain friends and family. We have created many media rooms over the years and below is a cozy one finished in the last two years inside our farmhouse build.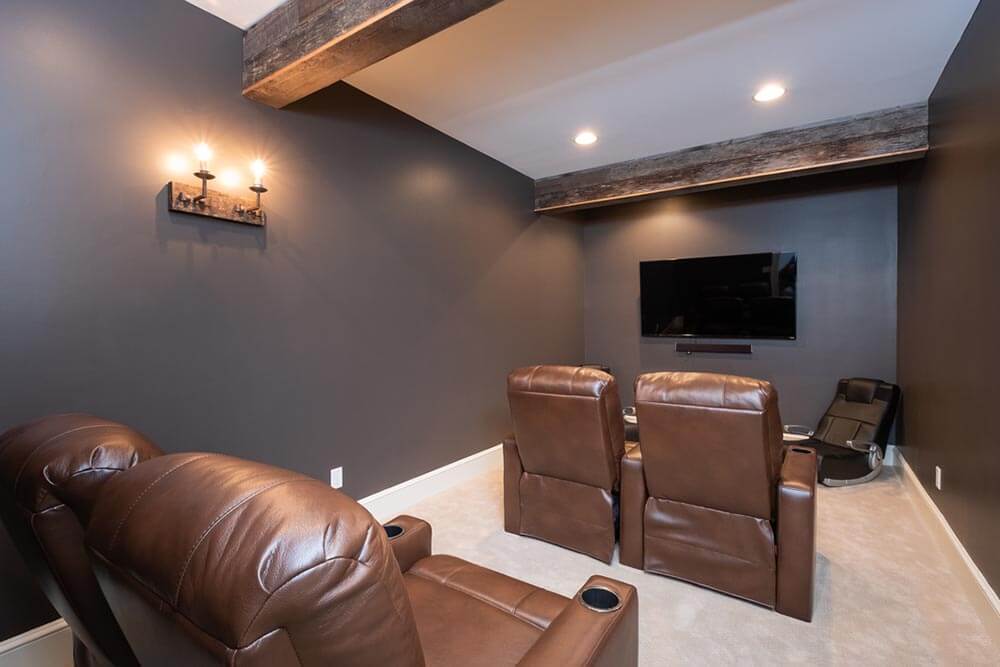 Golf Simulator
This is a truly unique feature that we are currently building into a home. It's such an incredible addition we wanted to make sure we did it justice and reached out to the subcontractor that is building it. Here is what they had to say:
Never has it been easier to stay home with the family and feel like you are at a theme park. With our simulator, we have redefined home entertainment. Its more than just Golf…unlock your entertainment space with over 100 interactive experiences available.

From stepping onto the tee box at Pebble Beach #7, to competing head to head with friends and family with TOP GOLF Suite, to taking down zombies with your kids, our simulator provides endless opportunities for game improvement and family fun.

Roderick, Triple S Alarms
Your Own Private Oasis
Ever imagined having your own private oasis out your back door? Our customers sure have! Parkinson Building Group has built many custom pools in the last few years, some have even been featured in popular magazines and articles. Pools offer so many different avenues of escape from relaxation, fun and games, and a great way to change up the workout routine. Some pools have incredible views and some are designed as a small piece of an entire outdoor landscape. Below are many of the pools we have featured in our gallery section of our website.
This pool and patio from our Middlecreek Home are part of a huge backyard that is perfect for family fun with yard games and pool time.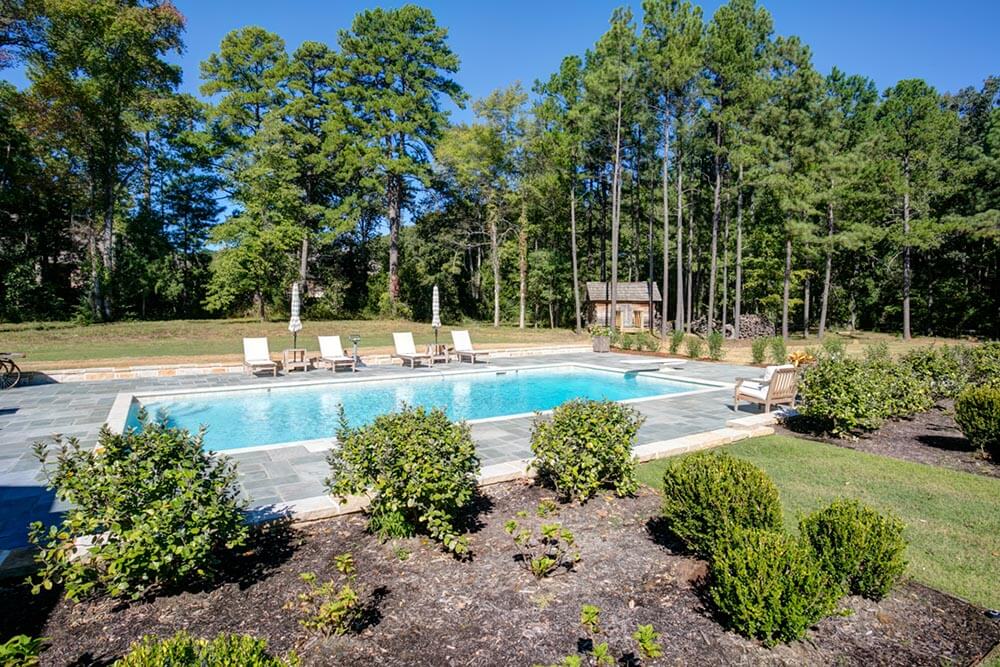 The two pools below are called infinity pools and we both built into the side of hills which gives them such an incredible look with the reflection of the sky. Both of these pools also feature an outdoor living space that just ads to the perfect escape that these pools offer.
This last pool has some water features and are, again, a part of a full outdoor experience perfect for family and friends.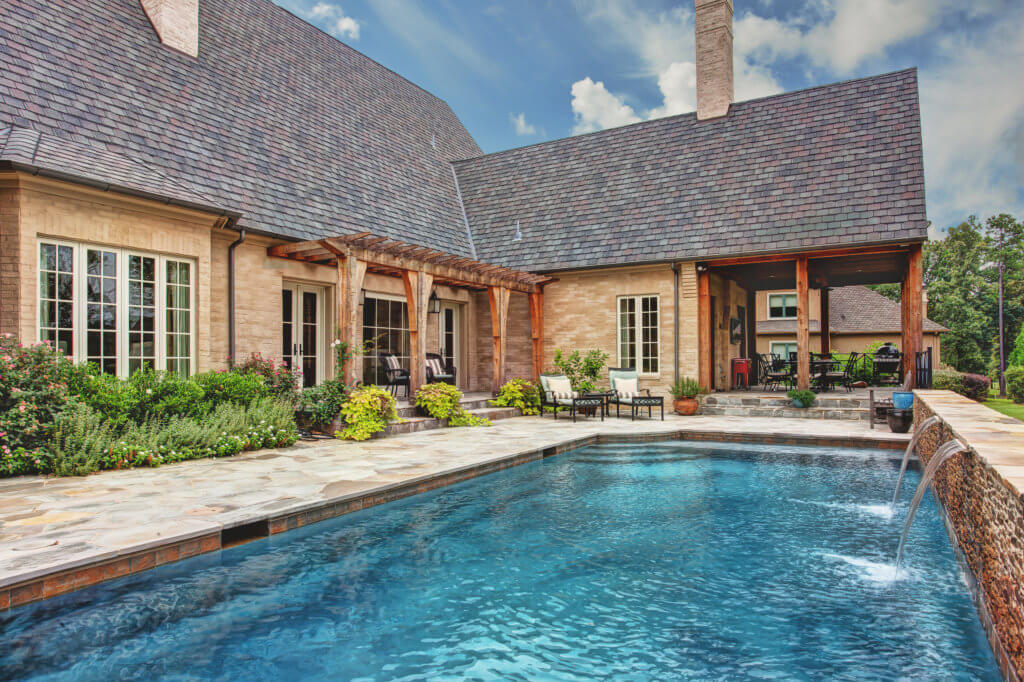 What Will You Build Into Your New Home?
When you build a custom home with Parkinson Building Group your options for customization are virtually endless! We partner with some of the best subcontractors in the industry to create some truly stunning builds for our customers. Whether you want to build any of the above additions into your home or have ideas for something completely unique, get in touch with us today to get started on your build!